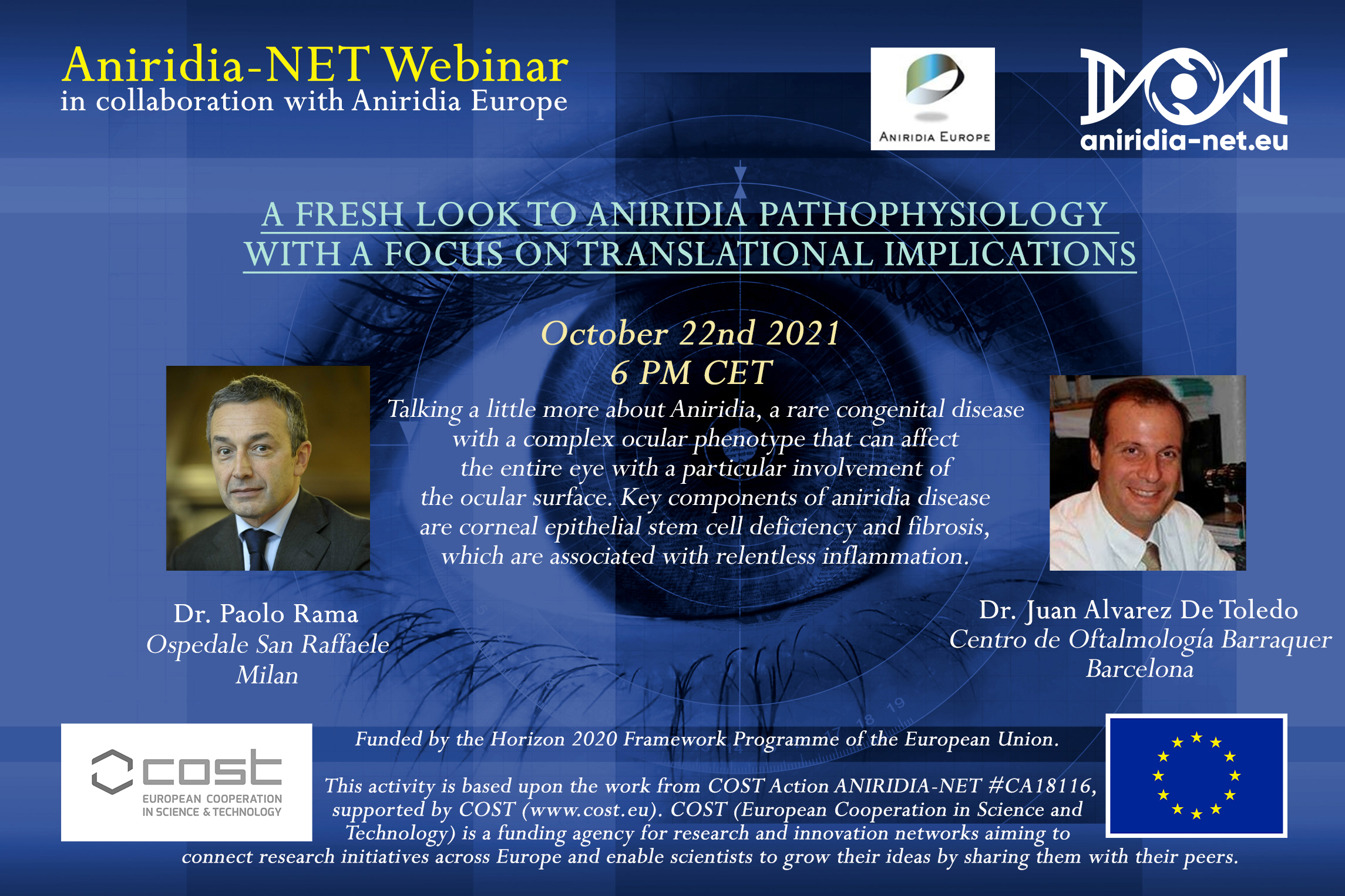 Aniridia-Net and Aniridia Europe are happy to announce this new webinar on aniridia, recommended to an audience of professionals working in the field.
The speakers, Dr. Juan Álvarez de Toledo (Centro de Oftalmología Barraquer, Barcelona, Spain) and Dr. Paolo Rama (Ospedale San Raffaele, Milan, Italy) have been working since many years with aniridic patients and have a relevant expertise in the field. They belong to Aniridia Europe's Scientific committee.
Introduced by Dr. Giulio Ferrari (Ospedale San Raffaele, Milan, Italy, and a member of the Aniridia-Net Management Committee) they will talk about Aniridia, a rare congenital disease with a complex ocular phenotype that can affect he entire eye with a particular involvement of the ocular surface. Key components of aniridia disease are corneal epithelial stem cell deficiency and fibrosis, which are associated with relentless inflammation. This seminar will review the pathophysiology of aniridia with a special focus on novel pathophysiology insights and their impact on treatment.
Please, find below the link to follow the webinar. No registration is needed. The webinar will last approximately 40 minutes.
Click here to join the webinar!
About Aniridia-Net: Funded by the Horizon 2020 Framework Programme of the European Union. This activity is based upon the work from COST Action ANIRIDIA-NET #CA18116 and supported by COST.
COST (European Cooperation in Science and Technology) is a funding agency for research and innovation networks aiming to connect research initiatives across Europe and enable scientists to grow their ideas by sharing them with their peers.